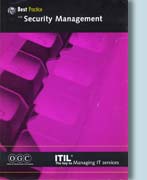 Security Management
auteurs J. Cazemier, Paul Overbeek & Louk Peters
uitgever TSO (The Stationery Office)
jaar 1999
isbn 0-11-330014-x

Much sold (nine printed editions) this book (known as "the Purple Security book") was replaced in 2010 by its successor "Information Security Management with ITIL ® v3", written by the same authors.

Information is one of the most important assets for business. Without it only a few processes are able to perform as intended. The sharing of information with other organisations, which enables quick and automated processing, increases that importance.
For Information Technology (IT), information is the core of its existence. Anything that threatens information or the processing thereof, will directly endanger the results of the organisation. Whether it concerns the accuracy or timeliness of the information, the availability of processing functions or confidentiality, threats that form risks have to be encountered by security. The aspects mentioned are structural for IT. That means that there are structural risks. Structural risks require structural security.
ITIL provides a foundation for the management of the IT Infrastructure. This book builds on that basis and explains how to organise and maintain the management of security of the IT Infrastructure, from the IT manager's point of view.