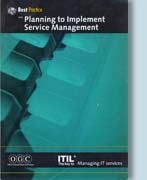 Planning to Implement Service Management
auteurs Vernon Lloyd, L ouk Peters, Kathryn Rupchok & Paul Wilkinson
uitgeverTSO (The Stationery Office)
jaar 2002
isbn 0-11-330877-9

The book provides guidance on alignment of the business needs to IT. It enables the reader to assess if IT service provision is meeting the requirements of the business. Where the business requirements are not being met it details the steps necessary to ensure the IT service provision does meet the current and future needs of the business.
The aim therefore is to give practical guidance in evaluating the current maturity levels of Service Management and on implementing improvement to the processes. This book is one of a series issued as part of ITIL that documents industry best practice for the support and delivery of IT services. Although this book can be read in isolation, it is recommended that it be used in conjunction with the other ITIL books. Service Management is a generic concept and the guidance in the ITIL books is applicable generically. The guidance is also scaleable - applicable to both small and large organisations. It applies to distributed and centralised systems, whether in-house or supplied by third parties. It is neither bureaucratic nor unwieldy if implemented sensibly and in full recognition of the business needs of the organisation.

One of the ITIL books that has longtime been over'louked' upon'.